Introduction
Do you need perfect pictures and images with outstanding visual effects? The Bgeraser app will do it for you. Some essential features of Bgearaser include removing unwanted objects from an image or a picture and manipulating the background. It is an efficient tool that works perfectly and maintains your pictures' quality.
This technology counters traditional image editing software, which is tedious and requires a lot of time to learn, making it one of the best modern-day background erasers. It is a tool that easily removes unwanted objects for pictures and images to suit the intended need.
Bgeraser: An AI-Powered Tool
Bgeraser is an online AI-powered for erasing picture backgrounds automatically without clicks. It helps users to edit images and remove backgrounds like a pro. The image background remover has an efficient processing capacity. It can remove picture watermarks and unwanted backgrounds online. The app is suitable for photographers, marketers, car sellers, and wildlife lovers who take pictures often and need to edit them regularly.
This object remover is cloud-based and easily accessible via online search engines. You can as well use Bgeraser to make image stickers for festivals. The AI-Powered tool is also suitable for creating the perfect wallpaper by removing watermarks without leaving traces. Therefore, if you want to remove unwanted objects from an image to get desirable picture outcomes, consider using Bgeraser.
Bgeraser: Why is it Necessary
Sometimes you may have got the perfect shot but need to eliminate some elements from the pic or image to make it more satisfying. This will require an effective tool which is Bgeraser.
For example, with this tool, you can edit a favorite picture of a beautiful landscape by editing the background to update your website or social media profile.
Or, you may have a perfect shot from a crowded place, such as a party or a family reunion, which you want to use without the background. Bgeraser comes in handy.
Other times you need to use a photo with a watermark, which you must eliminate to avoid violating copyright laws.
Bgeraser is your best friend to improve the overall harmony of the image. You will get to edit your photos to achieve the best visual effects by removing the unwanted background to get visual shock or show the picture details better.
Bgeraser: How it Works
Bgeraser utilizes a robust AI algorithm in the automatic processing of images. Through its strong machine-learning capabilities, it evaluates the image, identifies layers, establishes and divides primary and secondary components or objects, and removes the background from the image.
In its recent development, Bgeraser has updated the image matting capability to improve hair segmentation on images.
Bgeraser: Guide for Using the Tool
Automatic Background Removal- For automatic background removal, choose the Background Eraser option on the Bgeraser website, upload the image, wait about five seconds for processing and download the automatically edited image.
Selected Objects/Items Removal- To remove any unwanted objects from the image, choose the Magic Eraser option, upload the image, paint on the object you want to remove, click erase to process and wait until done. Download the resulting image.
Watermark Removal- Select the Magic Eraser option and upload your image to remove a watermark from an image. Paint on the selected text watermark and wait for it to process the click on erase. Wait until it is done and download the image without a watermark.
Sample Work 1: Background Removal
Sample Work 2: Object Removal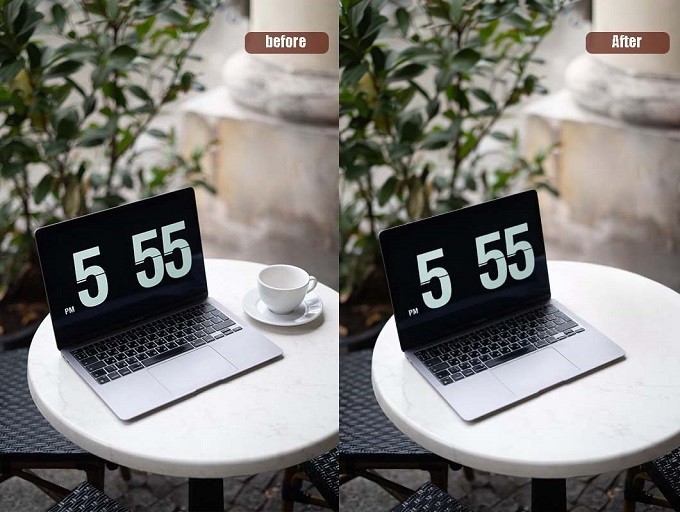 Sample Work 3: Text Removal
Bgeraser: Who Uses the Tool?
Designers- They use Bgeraser to remove unwanted objects from an image to achieve marketing goals. The tool eliminates the tedious work of editing images for marketing designs and other purposes with the automatic magic erasing feature.
Photographers- For beginner photographers, Bgeraser comes hand in hand with their work as an editing option with pro results. Without much photo editing proficiency, Bgeraser is an excellent and affordable tool.
Ecommerce admins- In eCommerce, products must have a focused effect and an appealing background. Bgeraser helps eCommerce administrators create product-focused images and clarity to attract buyers.
Bgeraser: Steps to Follow to Start Using
Here are the steps you must follow to use Bgeraser to remove the image background.
Step 1: Go to the official website of Bgeraser (https://bgeraser.com/) to access the workspace.
Step 2: Upload the image you want to edit or remove the background.
Step 3: When the upload is completed, click on the background eraser tab to automatically detect the area that needs to be cleared.
Step 4: Remove unwanted image components by tapping the Magic Eraser. Use the brush to select the area you want to edit.
Step 5: Download the edited version of the image after the background and unwanted items have been deleted.
Bgeraser: Key Features
Bgeraser free and paid options- Bgeraser has free and paid versions based on the user's budget and needs. But the Magic Eraser function is 100% free to use. Users don't need to create an account or subscribe to the paid plan.
Edit features maintaining the original picture quality- One of the biggest strengths of Bgeraser is that it removes watermarks, edits the background, and erases unwanted items without compromising the image quality. Other image editors take loads of time and distort image quality, but not Bgeraser. It is speedy and maintains the original image quality.
Watermark removal feature- This feature helps remove unwanted watermarks from photos without charge. It is one of the easiest ways to watermark removal with a click.
Batch order feature- Bgeraser, both online and desktop versions, has a batch image editing feature. It can work on several images simultaneously, as you don't have to engage the image physically.
Works without an internet connection- If you have a project to edit and no internet connection, the Bgeraser desktop option works perfectly offline. Both the PC and Mac downloads are offline enabled.
Excellent processing feature suitable for different projects- Bgeraser is one of the best options for making catalog images for product photography. Its AI recognition capabilities for the main elements of an image make its processing great. It cuts people and faces unwanted from an image at a professional level very quickly.
Bgeraser: Pricing Options
Apart from the free plan, Bgeraser also has paid plans which can be billed monthly or annually.
The annual plan is cheaper than the monthly plan, saving you 55% of the total cost.
You can choose the $2.9 per month premium option to get HD image results.
The Pro Plan, which is $4.9 per month, is the best option for processing many images and getting HD results. Bgeraser paid plans are cheaper than most image object remover software options.
Bgeraser: Advantages
First, Bgeraser is appropriate for beginners, unlike other image editing software. Tools such as Photoshop require proficiency for effectiveness. For Bgeraser, novices can edit images to desired levels without learning, and you finish the process in a few seconds and easy steps.
Second, Bgeraser is easy to use without registration. The tool has a simple but effective user interface and is free and available online for anyone. The free plan works well for individual needs, and there is also a paid option. The resulting images have no watermarks.
Third, the tool is speedy and effective in image processing. The automatic AI-powered editing options make the process very efficient. You get your desired image in less than a minute, increasing productivity. It has a high accuracy processing on images.
Fourth, Bgeraser maintains the picture quality after editing, one of its biggest strengths. Most photo editing software distorts image quality during editing, contrary to the editor's wishes. Bgeraser maintains the image quality to give you satisfactory results.
Last but not least, the batch order feature allows one to work on multiple pictures simultaneously, making the tool time-saving.
Bgeraser: Disadvantages
The free option only allows one photo editing at a time. This can be limiting when you have loads of work to remove objects from many images.
Another disadvantage is that it limits the supported image formats to PNG, JPEG, and JPG. Other formats like Gif, SVG, and Webp are not supported.
Bgeraser: FAQs
Is Bgeraser available for mobile?

Bgeraser is an online tool available via the website and does not support iOS and Android devices. The online application is convenient as you can enjoy it anytime and anywhere to remove objects from an image, clean up pictures, and act as a background eraser.
Do I need to register an account to use Bgeraser?

No, the tool is available freely online without creating a Bgeraser account. Without an account, you can only edit one image at a time.
Can I use Bgeraser free all the time?

Yes, Bgeraser is available for free, which is a free plan and not a free trial. Image editing and access to the tool can be done anytime, anywhere, without restrictions.
How long does Bgeraser take to edit an image?

Bgeraser is generally fast, but the time taken to remove objects from an image depends on the size and complexity of the image. It takes seconds for Bgeraser to remove objects for ordinary image quality. High-resolution images take longer as the algorithm processes the details contained.
Conclusion
As they say, a picture is worth a thousand words. To achieve a picture's purpose, one sometimes has to adjust the components per the need to achieve a picture's purpose.
For a starter, Bg Eraser is an excellent tool for editing images through background removal, watermark removal, and removing undesired objects.
With its machine-learning and AI-powered capabilities, Bgeraser ensures you get the best image for your needs. To add the icing to the cake, it is free and available for anyone online. It has a fast processing and easy user interface, saving time and energy. Its simple operations and availability without creating an account make it very effective.
If you wish to use the tool at a professional level, it also has reasonable paid plans which suit your budget.
So why not try Bgeraser today for free?
ʕ•́ᴥ•̀ʔっ Giúp gấu chia sẻ bài viết và đánh 5 sao, cảm ơn bạn rất nhiều!